Instantly Increase Conversions on your Website with Social Proof.
WPfomify increases conversion rates on your website by displaying recent sales & signups.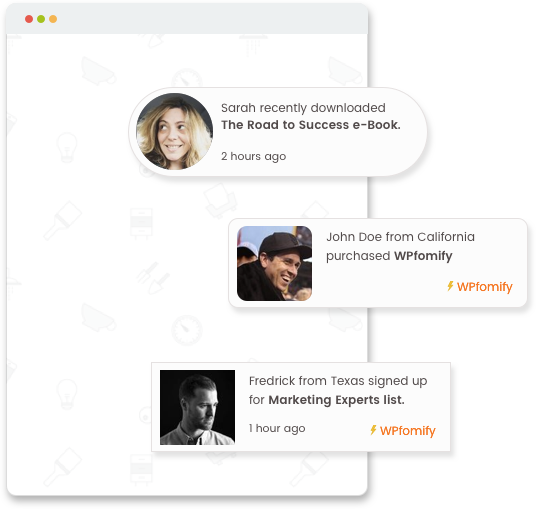 It's like a marketing Swiss Army knife!
With WPfomify I've been able to boost conversions using the purchase notifications, and create urgency with the timed notifications bar!
Dustin W. Stout, Social Warfare Plugin
Easily increase conversions with WPfomify.
Tell your visitors what other visitors are doing — purchase, sign ups, reviews etc.
Boost Conversions
Convert your visitors into subscribers and customers. 
Increase Credibility
Real-time customer activity increases credibility on your website.
Use FoMo Technique
Leverage the Fear of Missing out (FoMo) to convert visitors into customers.
Real Reviews for Real Conversion Boosts!
WPfomify has helped these people boost their sales and email signups. 

WPfomify helped me to increase sales, even due to the notoriously low summer months. I love the flexibility of WPfomify, which lets me easily control how and where the notifications are shown, lets me adjust their look and feel, and helps me keep a pleasant user experience in my shop. Highly recommend it!

I'd been looking at options to add social proof to my site for a while that was strictly based on new optins, since I don't run e-commerce on my site. WPfomify was the exact solution I was looking for! Now with the added floating button I have an added lead gen feature on my site! Works brilliantly!

WPfomify was the missing piece for my lead generation process. I added it to my website and noticed an immediate positive impact. It integrates with EDD which I use for selling all of my products. I highly recommend it to anyone who sells digital products.
Packed with Powerful Features to Boost your Business
Take a look at the amazing features that WPfomify offers.
Real Time Activity Notifications
Display recent sales and signups on your site to convert visitors into customers & subscribers. 
Create Urgency
Showing time-limited offers can help you boost your conversions by creating urgency.
Targeting Rules
Take complete control of who, when and where sees the notifications from Fomfiy.
Mobile Optimized
WPfomify is designed to work beautifully on all kind of devices. 
Design Options
Easily customize the look and feel for WPfomify to match with your site's branding.
Conversion Tracking
WPfomify provides UTM fields to add your parameters and track with Google Analytics.
Frequently Asked Questions
Do you have questions about WPfomify?
Absolutely not! WPfomify works out of the box without any need of code intervention.
WPfomify works with a self-hosted WordPress website. 
Based on your license type, you can use it on 1 site, up to 5 sites or unlimited sites.
Yes, you can use it on client sites. 
Yes, WPfomify can be used to display reviews, announcements, contact button or even subscriber activity for your mailing list. 
The standard 1 and 5 site licenses for WPfomify are valid for 1 year's support and upgrades.
Yes! You will receive a 30% discount on renewals.
Your license will get auto-renewed. You will receive a notification before renewal. If you would like to cancel your subscription, please let us know.
No. You can continue to use WPfomify as long as you wish to. You will not be able to receive updates and support after the license expires.
We are sure that you will love WPfomify. If you ever need a refund, we will gladly return your money. You can request a refund within 14 days of purchase.
Ready to boost your Conversion Rates with WPfomify?
Join thousands of customers using WPfomify.
Buy worry free with our 14-Days Money Back Guarantee.