Instantly Increase Conversions on your Website with Social Proof.
WPfomify increases conversion rates on your website by displaying recent sales & signups.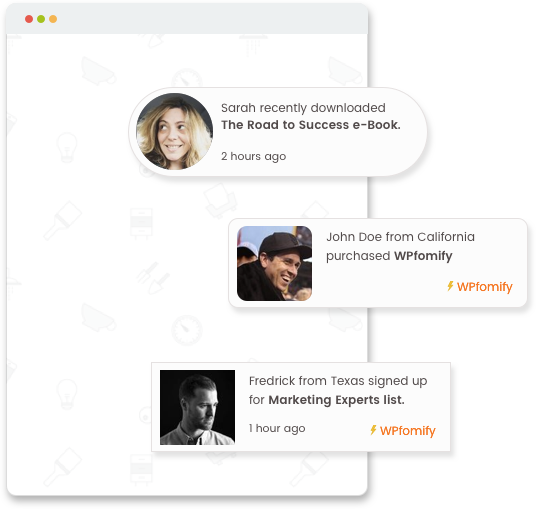 The #1 Social Proof Plugin for WordPress
Here are 3 Simple reasons why you should start using Social Proof on your site.
Boost Conversions
Convert your visitors into subscribers and customers. 
Build Credibility
Real-time customer activity increases credibility on your website.
Increase Revenue
Leverage the Fear of Missing out (FoMo) to convert visitors into customers.
It's like a marketing Swiss Army knife!
With WPfomify I've been able to boost conversions using the purchase notifications, and create urgency with the timed notifications bar!
Dustin W. Stout, Social Warfare Plugin
Increase your conversions!
If you're looking to increase your conversions through social proof marketing, then WPfomify is the right tool to invest in. 


Ahmad Awais, The Dev Couple

The Recent Activity or Conversions features is the most popular feature from WPfomify. It's used to display the notifications for your recent signups or purchases on your website.  
You can display the conversion data from various sources like WooCommerce, Easy Digital Downloads, GiveWP, CSV file or any kind of Form on your website. 
The Conversion Count notification is a great way to share the total number of signups, purchases or any kind of conversions on your website in a given time duration.
This is a great way to improve the conversion rate on your website. 


The Visitor Count notification displays the number of people currently viewing the page, it's a great way to build trust. 
This notification helps your users understand the credibility of the site and help them to complete their purchase or signup.
WPfomify integrates with Popular WordPress Plugins & Web Services
WPfomify integrates with the most popular WordPress plugins, email marketing tools and can be used with almost any embedded form on your site. It's easy to setup and use.
WPfomify is the only Social Proof Marketing plugin for WordPress that you will need for your website!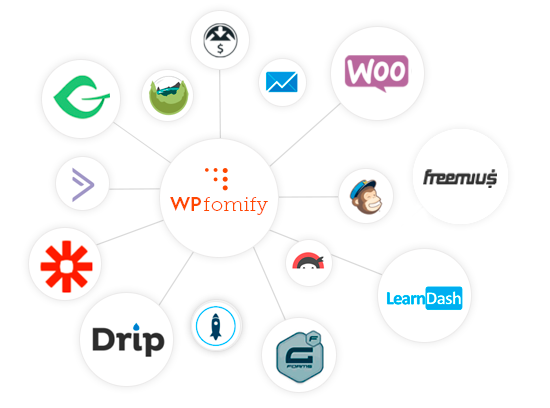 Frequently Asked Questions
Do you have questions about WPfomify?
Ready to boost your Conversion Rates with WPfomify?
Join thousands of customers using WPfomify.
Buy worry free with our 14-Days Money Back Guarantee.